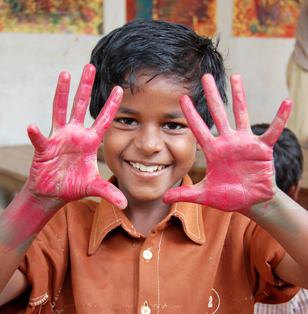 Teach an arts class. Volunteer with Evening Tuition. Join us for a recital or art exhibition. Donate to the foundation. Attend a street theater performance. Teach a game to the children.
Possibilities are endless here at Yatra, and as the arts benefit through collaboration, we welcome you here! If you have a particular artistic tendency, lots of energy, and some time to spare, please contact us and come along to facilitate a class or two. The smiles alone are worth it!
Interested? Feel free to ask us questions, reserve our exhibition space, or enroll your child in our weekend classes, or join us on Facebook for updates, inspiration, photos, and more!
Yatra Art and Culture Foundation
Near New Creation Sports Ground, Kuilapalayam,
Auroville 605 101, Tamil Nadu, India
Phone: +91 (0)413-2623071
Mobile: +91 9751033162
[email protected]